"BIO"
A little bit of general information!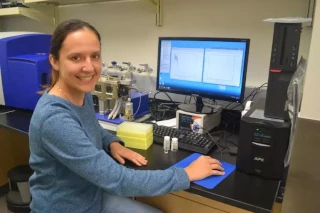 I'm Sasha and I'm a
Hi! My name is Aleksandra A. Zagulyaeva.

I am a Postdoctoral Fellow at Novartis Institutes for Biomedical Research (NIBR) in Cambridge, MA. Before joining NIBR, I received my undergraduate degree in Organic Chemistry from M.V. Lomonosov Moscow State University, my Masters in Organic Chemistry from the University of Minnesota Duluth, and my doctoral degree in Chemical Biology from the University of Florida. My doctoral research was aimed at elucidating the mechanism of action of MbtH-like protein (MLP), an integral component of many bacterial NRPS systems producing pharmaceutically valuable bioactive compounds. Understanding how MLPs work has important implications for developing antimicrobial therapies as well as for the production of novel molecular scaffolds for medicinal applications.

I have experience in multiple areas of chemistry, ranging from multistep synthesis of target compounds to crystallization and structure determination of protein complexes. At NIBR, I am working in biosystems engineering and aim to further antimicrobial research in the future.

Publications
An aggregation of my scientific publications

Comprehensive Natural
Products III
2.11 - Structural Biology of Nonribosomal Peptide Synthetases

doi.org
The Journal of Organic Chemistry
A General and Convenient Preparation of [Bis(trifluoroacetoxy)iodo]perfluoroalkanes and [Bis(trifluoroacetoxy)iodo]arenes by Oxidation of Organic Iodides Using Oxone and Trifluoroacetic Acid

doi.org
Organic Letters
Hofmann Rearrangement of Carboxamides Mediated by Hypervalent Iodine Species Generated in Situ from Iodobenzene and Oxone: Reaction Scope and Limitations


doi.org

Chemistry—
A European Journal
Iodine(V)/Ruthenium(III)‐Cocatalyzed Oxidations: A Highly Efficient Tandem Catalytic System for the Oxidation of Alcohols and Hydrocarbons with Oxone

doi.org

Russian
Journal of Organic Chemistry
1,3-Dipolar Cycloaddition of Schiff Bases and Electron-Deficient Alkenes Catalyzed by 𝞪-Amino Acids

doi.org

Coming Soon!
I'm currently working towards my next publication!
Contact
Now you know how to reach me!